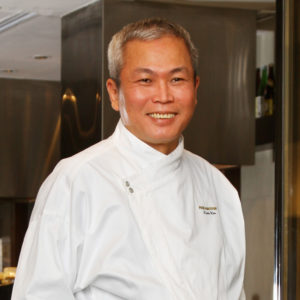 Martin Woo
Chef Director,
WMartin F&B Concepts
With over 30 years of experience under his belt, Chef Martin Woo is a stalwart in Singapore's food and beverage industry. His humble beginnings took root when he first worked as a service staff in a restaurant. There, he was inspired by other chefs who displayed a fervent passion for cooking. He pursued his calling first at Singapore Hotel and Tourism Education Centre (SHATEC).
Chef Martin spent the next few years with Le Méridien group of hotels. His short stint saw him promoted to sous chef and was selected to promote Singapore cuisine in London Le Méridien Piccadilly hotel. After finding out that there was a lot opportunity to learn on other various cuisine, he further his studies at the esteemed Ecole Ritz Escoffier in Paris, where he earned a Master Diploma in Cuisine.
Keeping his nose to the grindstone, Chef Martin went on to work at the two-Michelin-starred Le Chabichou in France; and La Pergola, a restaurant nestled in the luxurious Rome Cavalieri, Waldorf Astoria Hotels & Resorts. He has also worked with renowned hotels such as Hilton Singapore and The Ritz Hotel Taipei. All these stints imbued him with culinary flak as well as immaculate plating artistry.
Today, he is the Chef Director of Wmartin, a consultancy business in the food and beverage industry. He has had a hand in bringing to life restaurant concepts such as MEDZS Bistro and Bar as well as BWB I burger VS wings bar. His well-sought-after expertise sees him consulting for gourmet festival SAVOUR 2015 and pop-up restaurant concept 4XFOUR.
Chef Martin holds the appointment of Jury for TrackChef Culinary Competition, a dining initiative by Singapore GP, organisers of the Singapore Night Race. As a consultant for Singapore GP, he offers his professional expertise on menu planning for the following concepts: Hospitality Suites, Paddock Lifestyle (Broadwalk Suite, Itsuki Izakaya, Library Bar, Creamery Café). Through these endeavours, Chef Martin had the opportunity to connect with and impart his skills to younger talents.
In 2016, Chef Martin stepped into the role of consultant for Mo'mor, a contemporary izakaya with Japanese-European sensibilities. The restaurant boasts a well-curated menu of delectable tapas and grills. Chef Martin's influence is apparent here. The chefs at Mo'mor use only premium and freshly sourced ingredients to whip up its cuisines. Simple yet elegant, the dishes celebrate the perfect interplay of smooth textures and mouth-watering flavours.
"30 years of chef & restauranteur experience at your service."
- Wmartin